We recommend your wedding gown be cleaned as soon as possible after the wedding and … your Mother wants your gown out of the spare room!
Free pick up and delivery Arrangements can be made to have your wedding gown picked up before your wedding, should it require pressing or special attention. A portion of the cost of hand pressing your gown before the ceremony can be applied towards the cleaning and preservation of your gown after the wedding.
We can arrange to pick up and deliver your gown after your wedding. These services are available within Calgary, Cochrane, Canmore / Banff and surrounding area.
For more information contact Candice Mills at 403-399-8441.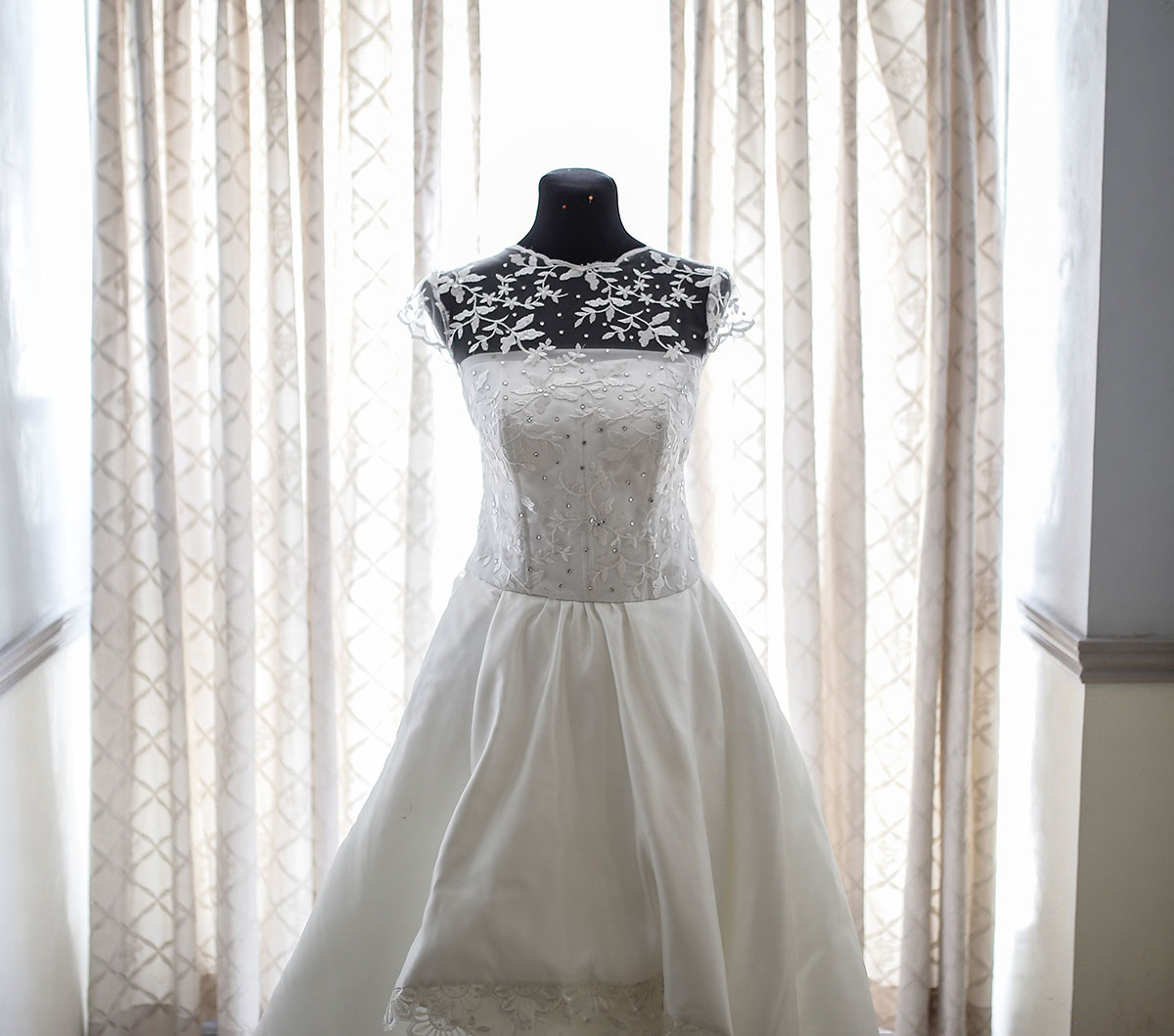 Wedding Gown Preservation
Free Evaluation
We will gladly give you a free consultation prior to the processing of your gown. Your gown is carefully examined and special attention to the fabric, beads, embroidery, and trim will determine the best cleaning process for your unique gown.
Each gown is hand processed individually and every precaution is taken to protect delicate sequins, beads and trims. We use the gentlest of environment friendly solutions. A blind test of four nationally known gown preservation services conducted by National Bridal Service proved our preservation was the cleanest, provided the safest packaging environment, and offered the most comprehensive guarantee. You can trust us to give your special gown the individual care and attention it deserves.
Exclusive Anti-sugar Treatment
Wedding Gown spills such as clear soda, wine and icing contain sugar and will often dry without leaving a visible mark. Sugar is not dissolved in the ordinary dry cleaning process and will caramelize and turn brown over time. Perspiration salts too, can remain behind after ordinary dry cleaning and will weaken the fabric over time. Our exclusive anti-sugar treatment ensures that all sugar and salts stains are removed, preventing damage to the fabric in the future. This process was featured in Modern Bride.
Personal inspection of your gown can be arranged, if you wish to view it before it is packaged. Your gown is carefully folded with acid-free tissue and placed in a beautiful acid-free, archive-quality wedding gown chest. A polypropylene window allows you to view your gown. We use acid-free, archival quality chests that resist water and mildew and protect your gown from light, insects and changes in relative humidity. They are the safest storage containers to keep your gown in pristine condition.
International Lifetime Guarantee
As a Certified Member of the Association of Wedding Gown Specialists, we offer a 100% guarantee against sugar stains or yellowing of your gown. When your gown is to be worn again, it will be inspected and pressed at no charge if taken to a member of the association of Wedding Gown Specialists. Association members are represented in more than 500 cities around the world.
To schedule a service, ask us questions or share your concerns, get in touch today!